Advocacy
ESCA Advocacy
As part of ESCA's initiatives, advocacy represents one of four pillars in our strategic plan. We advocate for our membership to ensure that they have their voice heard on issues that are important to them, protect and promote their rights as valued organizations and have their views and wishes genuinely considered when decisions are being made about our industry. In the wake of the COVID-19 pandemic this have become even more crucial. ESCA is a key contributor to the Go Live Together initiative and the Exhibitions and Conferences Alliance (ECA), as well as a strong supporter of the Exhibitions Mean Business initiative.
Go Live Together

Go LIVE Together has assembled leaders from across the diverse and vibrant live events ecosystem to drive local, state, and federal legislative actions that will not only be critical to our ability to put millions of people back to work, but also for our country's economic recovery. Every events industry recovery dollar will lead to incremental spending on travel, hotels, and restaurants, supporting Main Street merchants decimated by COVID-19. Live events industry legislative relief will serve as its own "stimulus package" because funds will be used to rekindle both an important economic sector and many connected companies. Our industry was producing tens of thousands of events per year before COVID-19, so the economic impact of live events cannot be overstated.
We hope you will join our efforts in sharing what we all already know to be true—nothing in the world will ever replace the power and need for live events.
Join us in this mission by sharing this overview of the economic impact of business events, encouraging evidence of our ability to reopen safely and the need to take action today in order to plan for events scheduled months from now.
Exhibitions and Conference Alliance (ECA)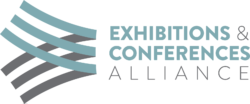 The Exhibitions and Conferences Alliance (ECA) is dedicated to the recovery and advancement of the face-to-face business events industry. Our mission is to help government officials understand the important role these events have on economies and job creation. We promote the impact of the sector, drive general industry awareness, monitor legislative issues, advocate for the industry's common interests, and work with partners globally as needed, to maintain a favorable operating environment within the U.S.
ECA provides a long-term strategy focused on creating substantive relationships with policymakers and ensuring priority matters are heard.
Exhibitions Mean Business
Exhibitions Mean Business exists to represent what's important to us all and share proof points and data with those decision makers. We must help drive that conversation.
Advocacy Tools
We sincerely thank the International Association of Exhibitions and Events for allowing members of ESCA to access their IAEE Advocacy Toolkit.
Find you US House Representative: https://www.house.gov/representatives/find-your-representative
Find your US Senator: https://www.senate.gov/senators/senators-contact.htm
Find your State Legislators: https://openstates.org/